Founder & Correspondent
Dr.S.A.Karthikeyan
Only with this idea in mind the first Matriculation School is budding here at Kumbakonam. In the past, the term 'genius' referred only to a person with a very high score in an IQ test. We now know that there are several kinds of intelligence like Intelligence Quotient (IQ), Emotional Quotient (EQ) and Higher Order Thinking (HOT) and who knows at this point what else is yet to be discovered.
The appearance of Humanistic psychology in 1960 has placed a new emphasis on the 'whole' person. We come to realize that there's pure intellectual genius, artistic genius, the movement genius of an athlete or dancer, musical genius, relationship building genius, leadership genius, entrepreneurial genius etc..This list goes on and on.
Each one of us is gifted in a unique and important way. God sent you down to earth to bloom, to sprout, to live out the message that is embedded in you. True education, it is said, should draw out the best in the person and lead to an all-round personality development.
The ICSE curriculum which is being implemented by CISCE lays emphasis on the holistic assessment of the learner. Karthi Vidhyalaya offers ample opportunities to students in order to draw out from them greater range of skills and talents than they know they possess. It is imperative that parents too encourage their wards to develop their latent talents and skills and help them to achieve their goals in the field of their choice.
Children are like butterflies in the wind. Some can fly higher than others, but each one flies the best it can. Why compare one against the other?
Each one is Different.
Each one is Special.
Each one is Beautiful in his own way.
Board of Advisors
The Board of Management of KVMHSS consists of eminent professionals from varied fields. Our Academic Advisory Board consists of experienced educationists with over 40 years of experience in teaching and developing schools with a well-rounded and balanced curriculum.
The Board of Advisors consist of
Dr.S.A.Karthikeyan - Founder
Mrs.Poornima Karthikeyan - Correspondent
Mr.T.Ambigapathy - Principal (Matric)
Mrs.Shanthi Krishnan - Principal (ICSE)
Mr.M.k.Rajendren - Building Contractor
Dr.Mr.Ramprasad - Veterinary Doctor
Rt.Mr.Vasudevan - Eshwar School, Correspondent
Mr.Sivagurunathan - Auditor
Dr.Prof.S.Santhosh - Alagappa University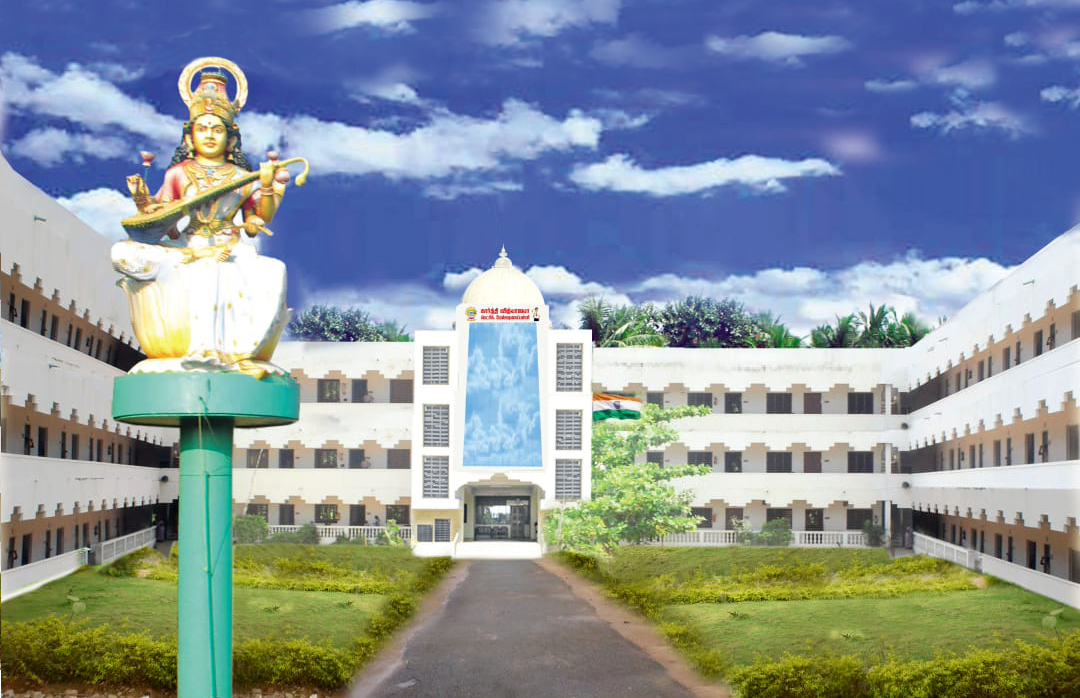 Pre-KG
Activity Based Learning (Montessori based), Use of Educational Toys, Rhymes, Story Telling.
LKG and UKG
All programs listed for Pre-KG and in addition, the course consists of subjects such as Mathematics, Environmental Science, and Languages - namely, Thamizh/Hindi. Languages are introduced in a phased manner.
Primary Year Programme
Std I to II
Mathematics, Environmental Science, CD Classes, English, Thamizh and Hindi.
Std III & IV
Mathematics, Science, Social Studies (History, Geography, and Civics), Computer Science, English, Thamizh and Hindi
Our Teachers are Trained by Experts in Areas Ranging
Mathematics, Science, Social Sciences
Languages
Montessori Systems, Activity Based Learning, Glen Doman Metho
Child Psychology
Physical Development, Yoga, Meditation, Brain Development
Exercises
Music, Arts & Crafts, Story Telling
Multimedia Devices, Preparation of Teaching Aids
Inculcation of Quest for Knowledge in Children and Teachers
Use of Abacus and other Mental Mathematics , Indian Culture and the Value Systems.
Essential Qualities for Being Our Teacher Includes
Being a mother to every child who comes to learn in the institution
Being ready to learn on a continuous basis and upgrade knowledge
Commitment to our philosophy
Appreciation of Indian culture and value systems
Commitment towards sustained hard work
We Provide a Unique Learning Experience
We Teach Students to Contribute to the Society.
We Include all Children. No Child Gets Left Behind.
Learning by Doing.
Here, Everyone is an Achiever.
We Produce Confident Learners.